Purchasing used camera equipment can be a great way to save money while still getting high-quality gear. However, finding a reliable source for used equipment is crucial.
In this article, we'll provide an in-depth review of our experiences buying used gear from mpb.com.
The main question many photographers have is – can you trust buying used camera gear online?
From our experience, the answer is yes, if you choose the right vendor. MPB has become our go-to place for buying and selling used gear over the past couple of years.
Here's an honest look at what it's been like using mpb from the viewpoint of actual customers.
Overview of mpb
mpb.com is an online marketplace based in the UK that sells used photography gear from major brands like Canon, Nikon, Sony, Fuji, Olympus and more. They have brick-and-mortar locations in Brighton, UK and New York, USA. mpb inspects, grades and warrants the gear they sell on their site, so you can buy with confidence.
We first learned about mpb through photography forums where people were discussing used gear sites. There were always positive reviews for mpb, so we decided to give them a try for ourselves.
It is a great marketplace to buy equipment of any kind and level. From mirrorless or DSLR lenses to cinema cameras like the Sony Burano or Arri Alexa Mini LF.
Buying Used Cameras and Lenses
Over the past two years, we've purchased several used camera bodies and lenses through mpb. Here's a rundown of our buying experiences:
Nikon D750 – Our first purchase from mpb was a used Nikon D750 camera body rated "Like New" condition. The camera arrived well-packaged in the original Nikon box with all accessories. It truly looked brand new. Images we've captured with it are fantastic.
Sony 16-35mm f/2.8 GM Lens – We bought this lens used-Like New. It arrived in pristine condition and works flawlessly. mpb provided a 6 month warranty so we felt fully confident purchasing an expensive lens used.
Tamron 70-200mm f/2.8 – We saved over $600 buying this lens used-Excellent from mpb vs. brand new. It has a tiny barely noticeable blemish on the barrel but no issues with image quality. Well worth buying used!
Nikon 50mm f/1.8 – We purchased this affordable prime lens used-Like New. It came perfectly clean optically and physically with no signs of wear. Buying used was a no-brainer for this lens.
Overall, we've been impressed with the quality and condition of the used gear purchased from mpb. The equipment has either met or exceeded the condition described on their site.
Our Buying Process
Here is an overview of what the process of buying from mpb looks like:
Browse mpb.com for the used gear you want. Filter by brand, item condition, price and more.
Select an item you want. View detailed photos and item descriptions.
Add the item to your cart. Enter your shipping details.
Choose payment method. mpb offers PayPal and credit card payments.
Complete purchase. You'll receive an order confirmation from mpb.
Wait for delivery. mpb packages items securely and ships quickly. For us, delivery to the US took around 5 business days.
The process was quick and seamless each time we ordered from mpb. Their website is easy to navigate with plenty of filters to find the specific gear you want.
Grading System
One very valuable aspect of buying from mpb is their detailed grading system.

They break down the condition of used gear into four levels:
Like New – Near pristine condition with little to no signs of use. Includes original accessories and packaging. Closest to new.
Excellent – Very good condition with minor wear that does not affect performance. May be missing some accessories.
Good – Noticeable cosmetic wear but operates perfectly. Lenses are optically tested. The best value tier.
Well Used – Heavily used but still fully functional. Cosmetics flaws. Great budget option.
We mainly opted for Like New and Excellent condition items from mpb. It was always evident upon inspecting the gear that the grading was honest and accurate. The details provided gave us confidence prior to hitting the buy button.
Customer Service
Thankfully we haven't had to contact mpb customer service too often since our gear orders went smoothly.
But on one occasion we did reach out to request a return/refund. We had purchased a used Fujifilm 16mm f/1.4 lens that we discovered had some internal dust upon arrival. We contacted mpb customer service via email requesting a return.
They responded incredibly quickly – in less than 24 hours. mpb provided a pre-paid return shipping label and refunded us in full for the item once it was received back. No hassle at all.
This experience proved to us that mpb stands behind the gear they sell. We'd absolutely recommend reaching out to their customer support if any issues come up with an order.
Selling to mpb
Not only does mpb sell used gear – they also buy used equipment. We were able to sell a couple of lenses that we no longer needed through their site.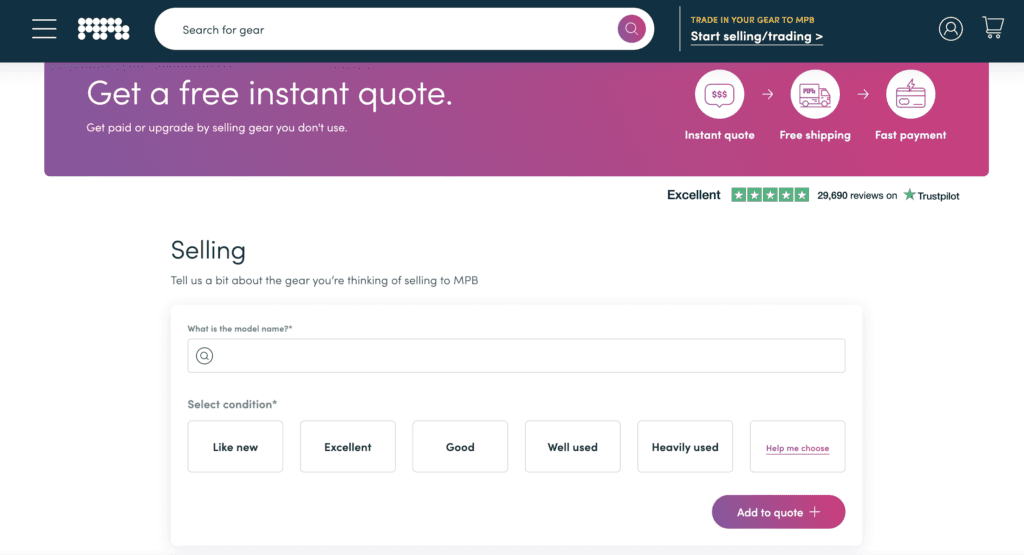 Selling to mpb was just as seamless as buying. Here's how it works:
Use the selling calculator on mpb.com to get a price quote.
Send in the items you want to sell with provided prepaid shipping label.
mpb will inspect and verify your items.
You'll receive payment via PayPal if items are accepted.
We sent in a Nikon 24-70mm f/2.8 lens and Tamron 90mm macro lens to sell using mpb's prepaid Fedex label. mpb inspected them and sent payment within a week of receiving the lenses. The condition grades and final sale prices were fair.
Being able to conveniently sell gear we no longer used was a huge benefit. mpb makes the buy/sell process really straightforward for the customer.
Reasons to Buy from mpb
To summarize, here are the main reasons we can recommend buying used gear from mpb:
Huge selection – All major camera/lens brands and a vast array of gear. New inventory added daily.
Accurate condition ratings – Detailed grading system for each used item. We found them to be precise.
Warranty included – mpb provides a warranty period on all used gear. Peace of mind for purchases.
Easy returns – mpb accepts returns/refunds without hassle.
Fast shipping – Orders arrive within 5-7 business days to the US. Well-packaged.
Trusted seller – Established company with excellent customer reputation. Safe and secure.
Convenient selling – mpb makes it easy to sell your own gear for fair prices.
For anyone looking to save money on camera equipment, we can't recommend mpb enough. In all of our experiences, they have lived up to their reputation as a trusted source for used gear. We plan to continue buying from and selling to them.
Buying Safely Online
We understand that for some photographers, buying expensive used gear online may seem risky.
Here are a few tips for safe online purchases:
Stick to reputable sellers with lots of reviews. mpb has an excellent reputation.
Inspect gear thoroughly upon arrival. Test functionality.
Pay with PayPal or credit card for purchase protection. Avoid risky payment types.
Compare "used" prices – some sites overinflate. mpb prices competitively.
Buy from a seller with a returns policy, like mpb's 30 day returns.
Look for a warranty or guarantees. mpb offers 6 month warranties.
While there's always some risk buying used, retailers like mpb give purchasers confidence. Following the tips above helps ensure a safe transaction.
Bottom Line
For any photographer looking to maximize their budget, buying used gear is highly recommended. Sites like mpb make the process extremely convenient while also offering peace of mind.
After numerous successful transactions, we can safely recommend mpb for both buying and selling used equipment. Their detailed grading system gives an honest assessment of item condition. Orders are shipped quickly and securely. And their customer service is fantastic.
Have you purchased from mpb before? We'd love to hear about your experiences buying or selling with them! Feel free to share your thoughts below.
FAQs: mpb.com
Is mpb.com legit?
Yes, mpb.com is absolutely a legitimate and trusted platform for buying and selling used camera equipment. They have been in business for over 10 years and have served hundreds of thousands of customers. Mpb.com thoroughly checks and certifies all items sold on their site.
Where is mpb.com based?
Mpb.com's headquarters and main operations are located in Brighton, on the southern coast of England in the United Kingdom. They have facilities and staff dedicated to receiving, inspecting, certifying, photographing, and shipping secondhand camera gear to and from customers all over the world.
When was mpb.com founded?
The online used camera gear marketplace mpb.com was founded in 2011 by two photography enthusiasts, Matt Barker and Steve Rose. The idea was to create a safer, easier way for people to buy and sell pre-owned camera equipment. After humble beginnings, mpb.com has grown steadily and they now have over 300 employees globally.