As a photographer, using color palettes is an essential tool to help communicate the mood or emotions of a photograph. Color palettes are used to create aesthetically pleasing visuals that result in eye-catching photographs.
When used correctly, color palettes can help photographers draw attention to their work and create lasting impressions. By mixing different shades of colors together, photographers can create contrast which helps emphasize certain elements in the photo.
Additionally, selecting complementary colors for a palette will provide balance and harmony within the composition of the image as well as increase visual interest.
Overall, choosing a suitable color palette when taking photos can elevate even the simplest images from mediocre to breathtaking masterpieces.
Today we are going to see 5 free ways to create a color palette.
Let's dive right into it!
1) Make a Color Palette using Coolors.co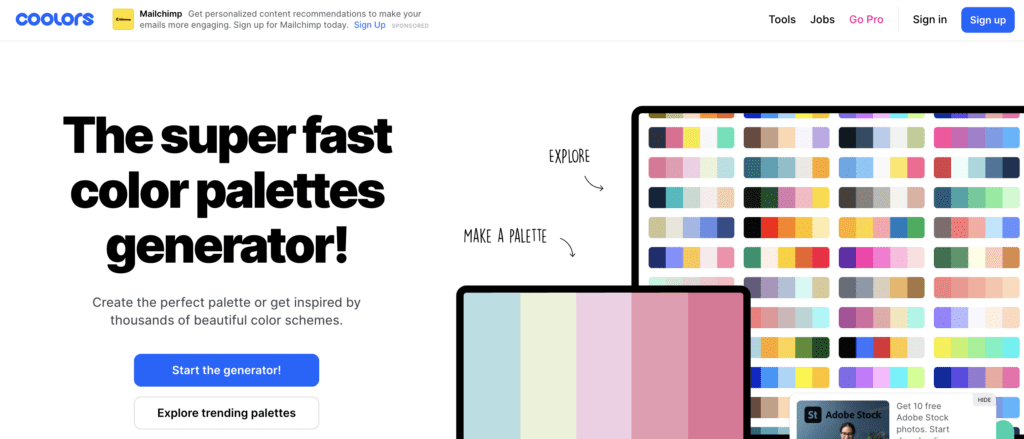 Coolors.co is an online color palette generator that helps to create beautiful, harmonious color schemes. It offers an easy and intuitive interface that makes it possible for even the most inexperienced users to quickly and easily generate gorgeous palettes. With its many colors and options, Coolors.co will help you craft the perfect color scheme for your next project.
This innovative tool helps users both select from existing palettes or customize their own using a variety of different parameters such as hue, saturation and luminosity.
Moreover, you can also save any combinations you like so you can come back to them later on without having to start all over again.
Step By Step Instructions
The first thing that we need to do is go to coolors.co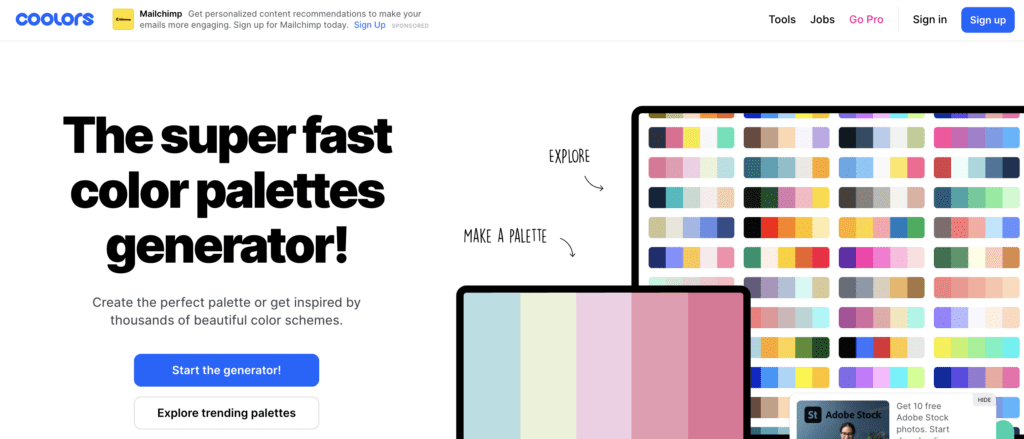 Then we need to click start the generator. The program will now randomly general color palettes, but we want to create it from a photograph or image rather than randomly.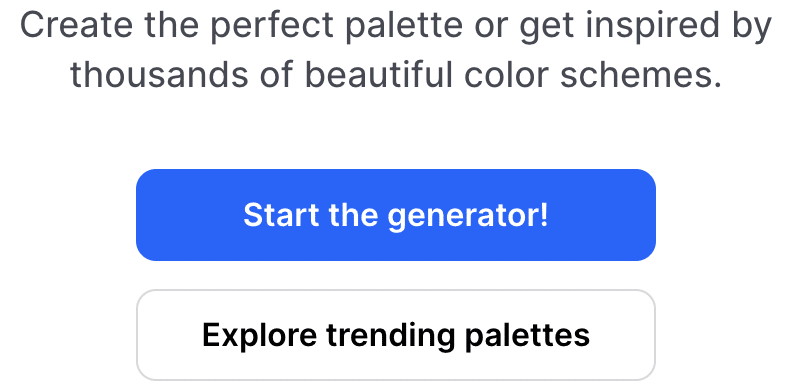 So we need to click on the camera icon where it says "create palette from photo".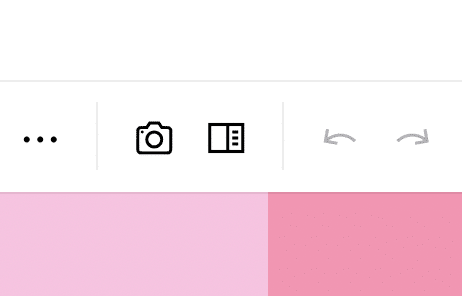 Now we need to upload the photo.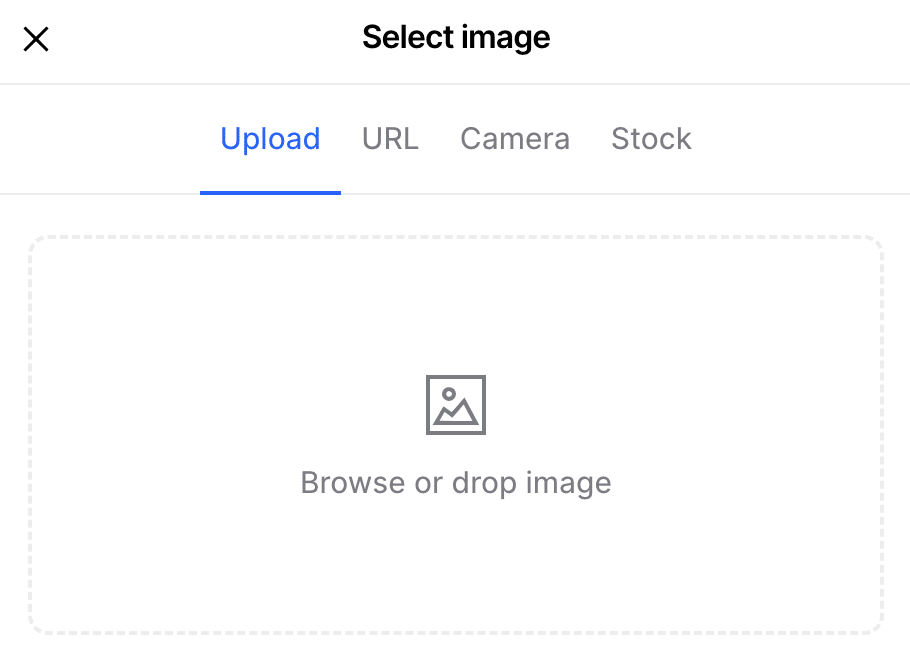 At this point, we need to select the 5 main colors taken from the photo we selected (you have to add one color at a time) that are going to form our new color palette.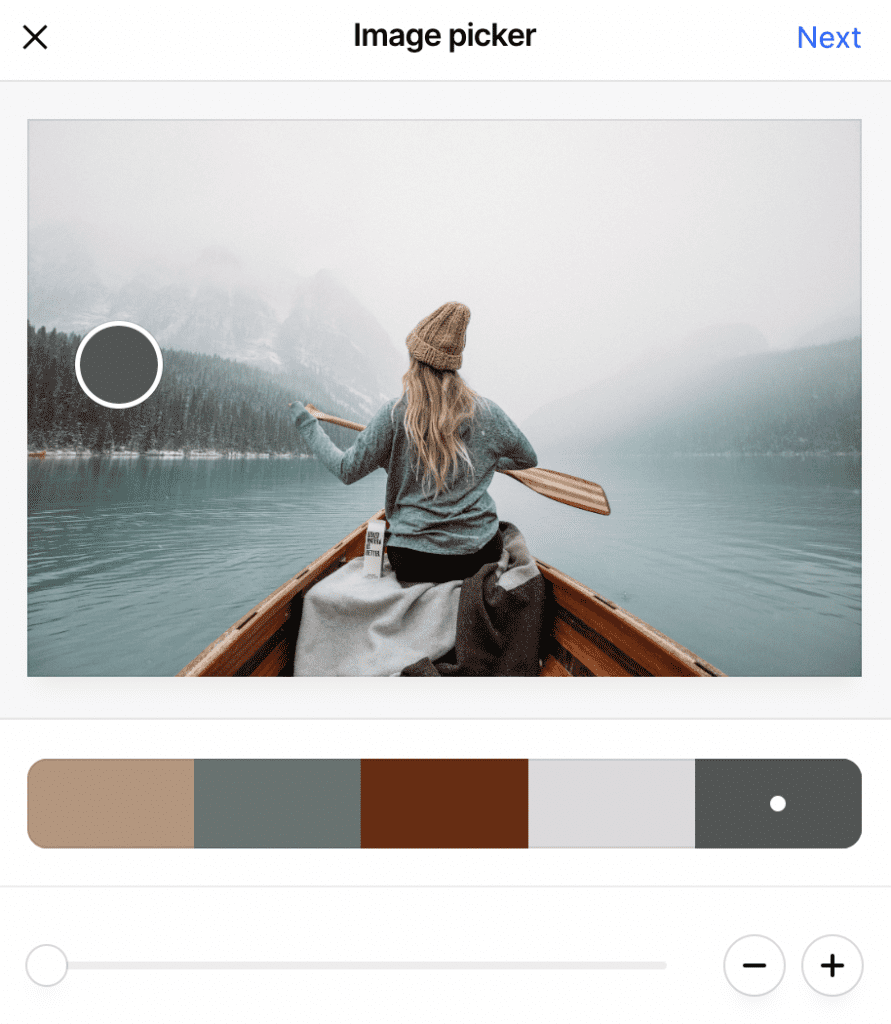 Once you are happy with the colors you selected, you need to click on next and then export palette.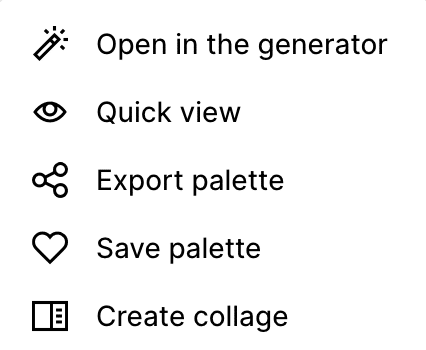 Now you can select any export format you prefer. I usually export in PDF because it will provide you with different types of color codes that you can use in your work.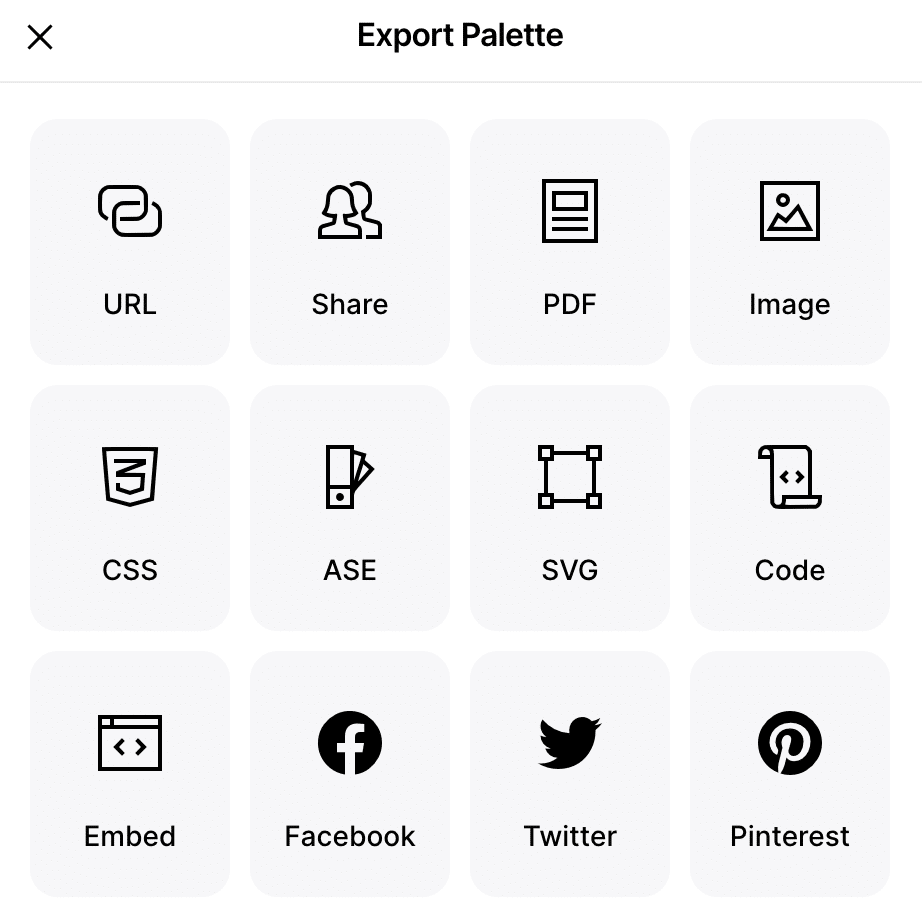 Then name it and click export.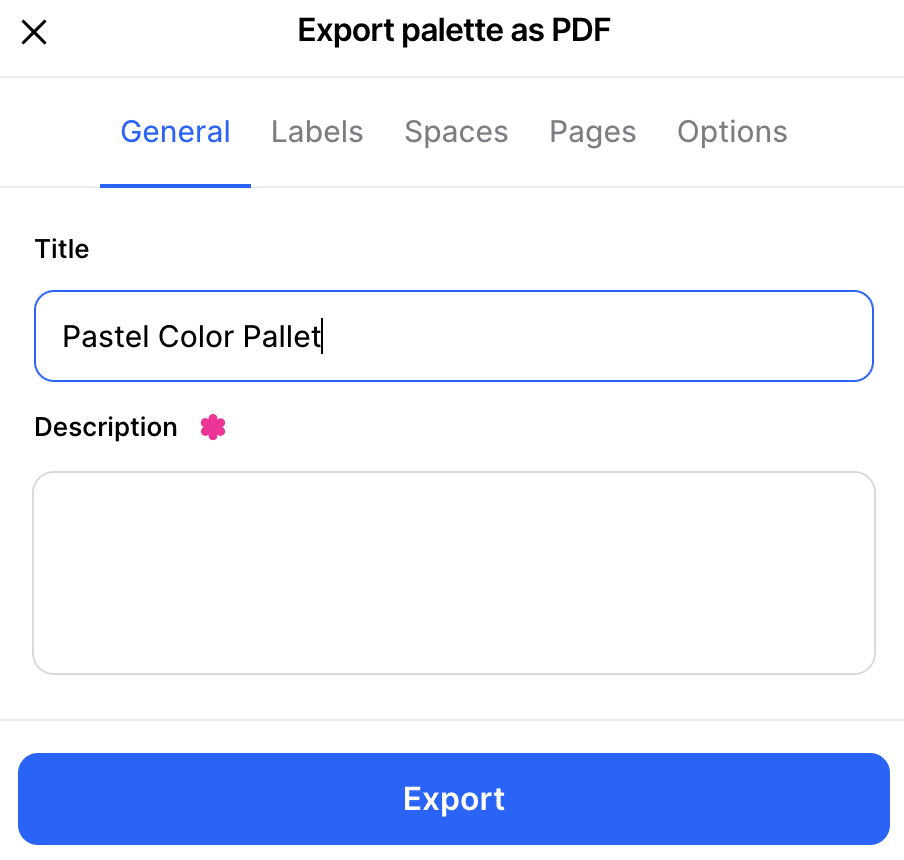 Now the color palette is saved on your computer and you can easily open it as a PDF.
2) Create a Color Palette using Adobe Color
The second website you can use to create a color palette from an image is Adobe Color.
Adobe Color is an innovative and creative way to create beautiful color palettes. It's a free color scheme generating tool that provides you with combinations of colors perfect for any project. Whether you're designing a website, creating artwork or crafting your own personal logo, Adobe Color will help you find the right hues in no time.
There are many ways to create a color palette in Adobe Color, but since we want to create it from an image we need to take some extra steps.
Step By Step Instructions
The first tab that is going to open is the color wheel one.

Since we want to upload one of our pictures, we need to move to the "extract theme" section and click on "select a file" or drag and drop our photo.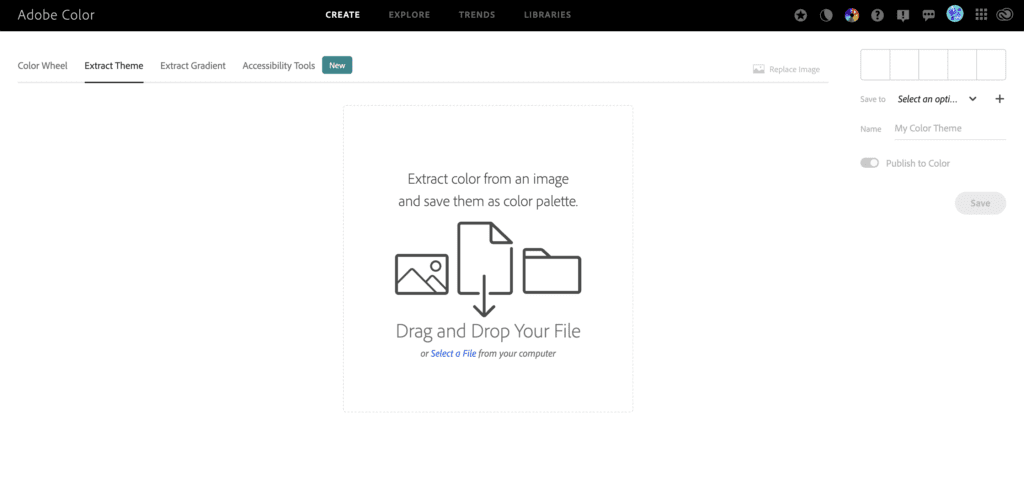 Once the picture is uploaded, we need to select 5 colors in our photo that are going to form the new color palette.
If you don't want to manually select all the colors, Adobe Color has some presets you can select that will choose the colors for you based on the mood you select.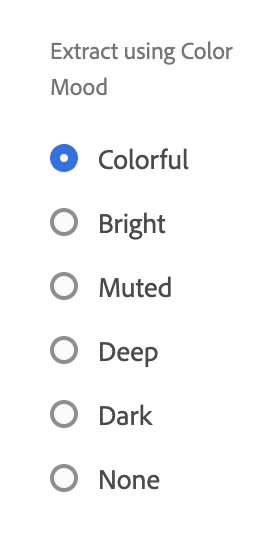 Once you have selected the new colors that will for your color palette, you can go ahead and save it to "My Library" in the top right hand corner.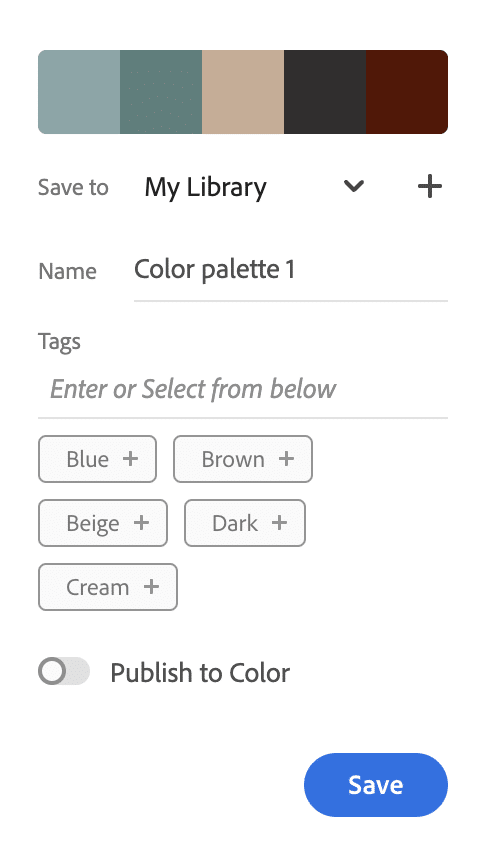 Once it is saved, you can go to your library, click on the color palette you want to download and once it opens you will have the option to download it as Jpeg or .ASE (if you need to share or open it on Illustrator) on the right side.
3) Adobe Photoshop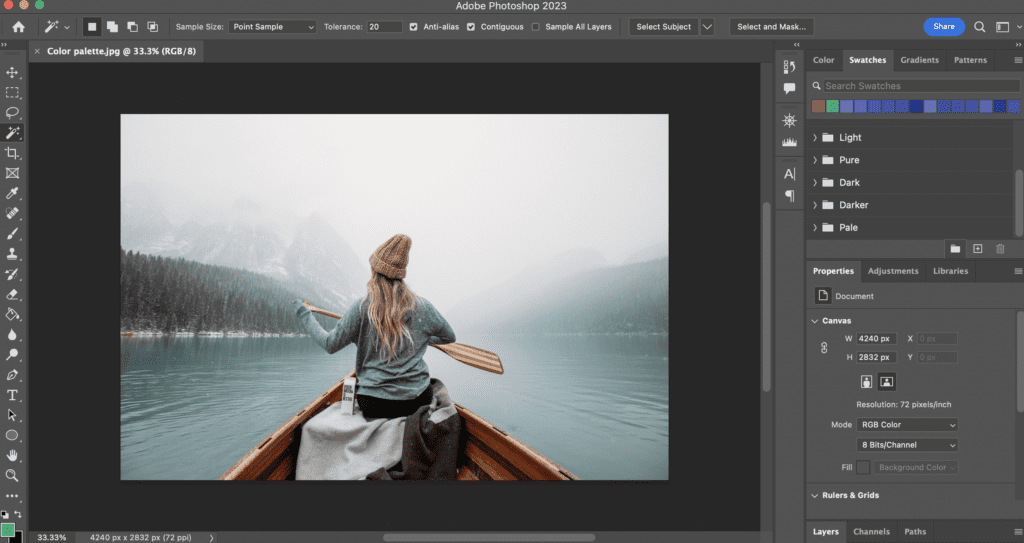 For this third method, we will create a color palette in Photoshop from an image.
Adobe Photoshop is the leading powerful photo editing software in the world. It has been used for decades by graphic designers, photographers and other creative professionals to give their photos a unique touch. Photoshop's extensive range of tools and features make it one of the most popular image editing applications available today.
But today we are going to use it to create a custom color palette.
Step By Step Instructions
The first thing we need to do is open Adobe Photoshop and switch window by going to Window and then Swatches.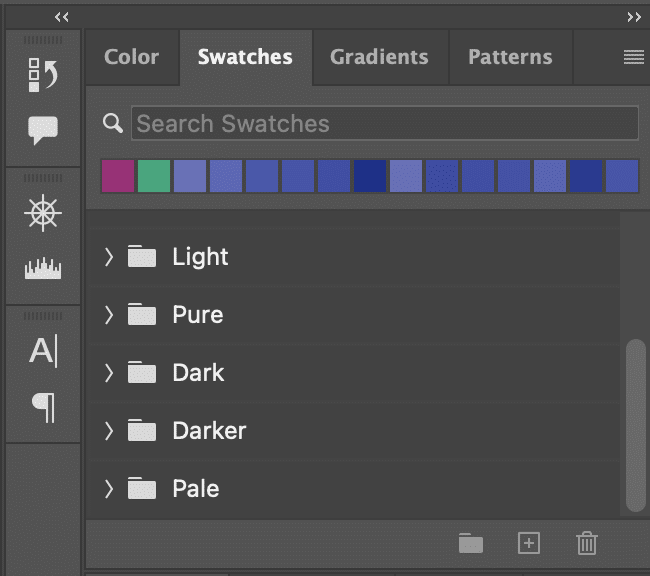 Then, click on the folder icon. In this way, you will create a new group and you can rename it "Color".

Now you need to select the Eyedropper Tool from the toolbar on the left side.

Now we need to select the first color from our photo. Once it is selected, we need to click on the + icon on the Swatches window and basically add the color to the folder we previously created.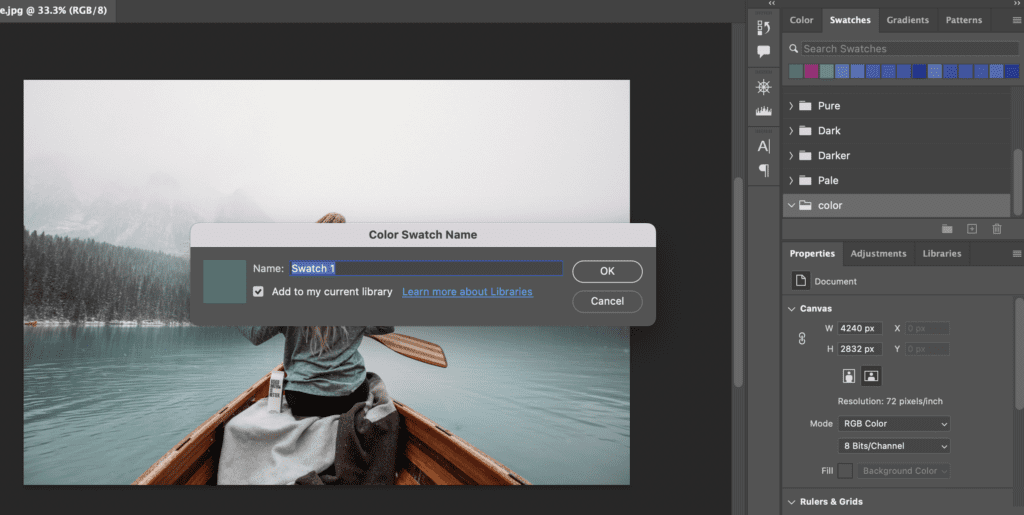 You need to repeat the process and select and save all the colors you want to include in your color palette.
Then, once when are happy with the colors we chose, in order to save it as a Photoshop Color Palette, we need to either right click on the folder we created or, with the folder selected, click on the drop down menu in the swatches window and select "Export Selected Swatches".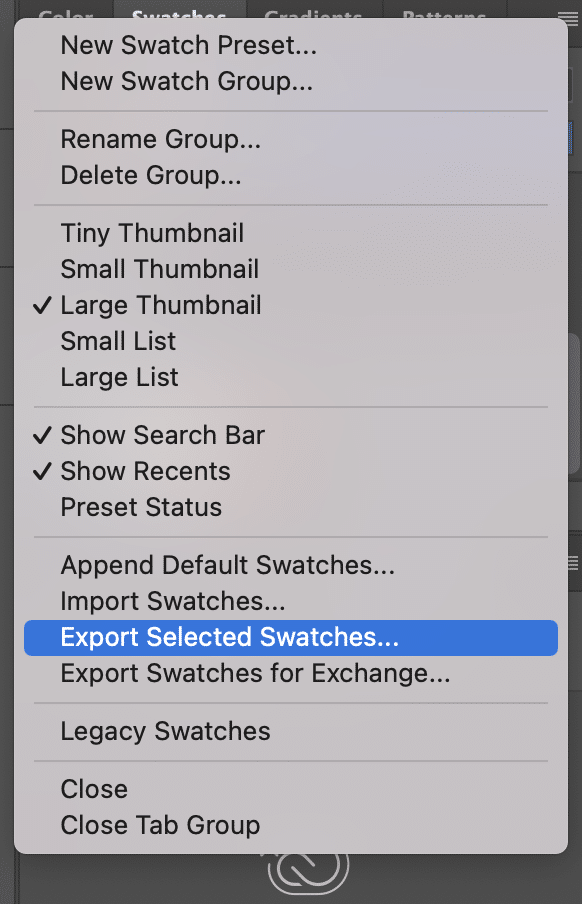 Now we can rename our color palette as we want and then click "save".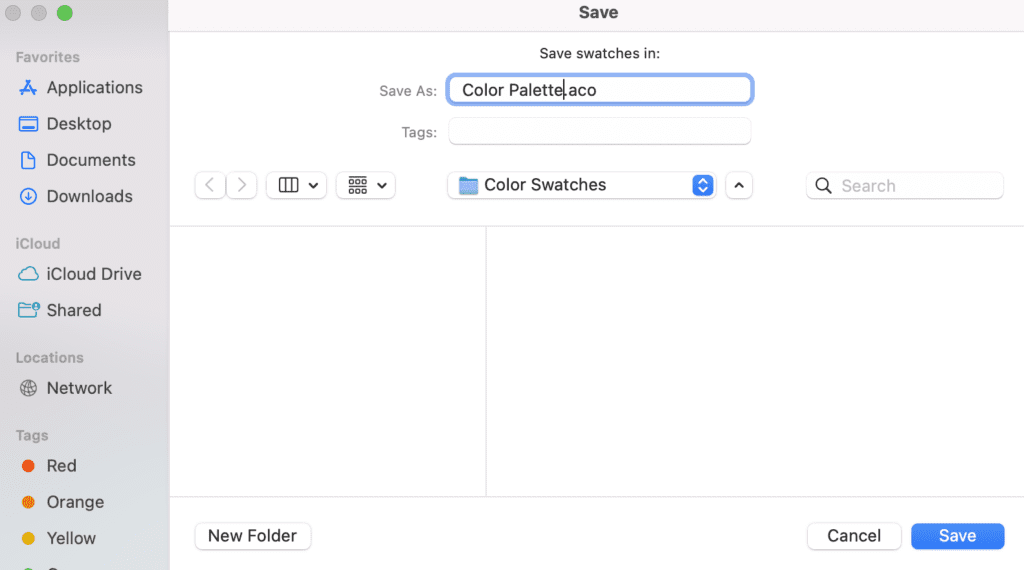 4) Canva Color Palette Generator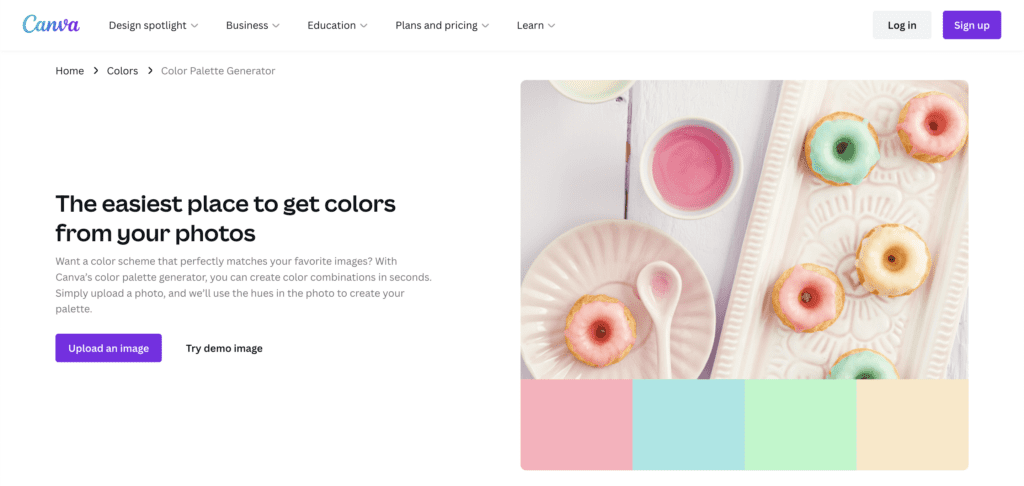 In this fourth method, we will be using Canva to create our color palette.
Canva is an amazing graphic design tool that can help people create stunning designs with ease. It has a simple user interface, so even those who have no experience in designing can quickly get up and running.
Canva offers a wide range of built-in templates, making it easy for users to create beautiful visuals without having to start from scratch. Additionally, the library of millions of photos, illustrations and icons allows you to easily customize your designs. With Canvas's powerful tools, anyone can become a visual designer in minutes.
To create a color palette we are going to use the Color Palette Generator of Canva. It doesn't require any login but if you want to save every color palette, I highly suggest that you sign up with a free account so you can have access to all of them in one place.
Step by Step Instructions
The first thing we need to do is go to the Color Palette Generator.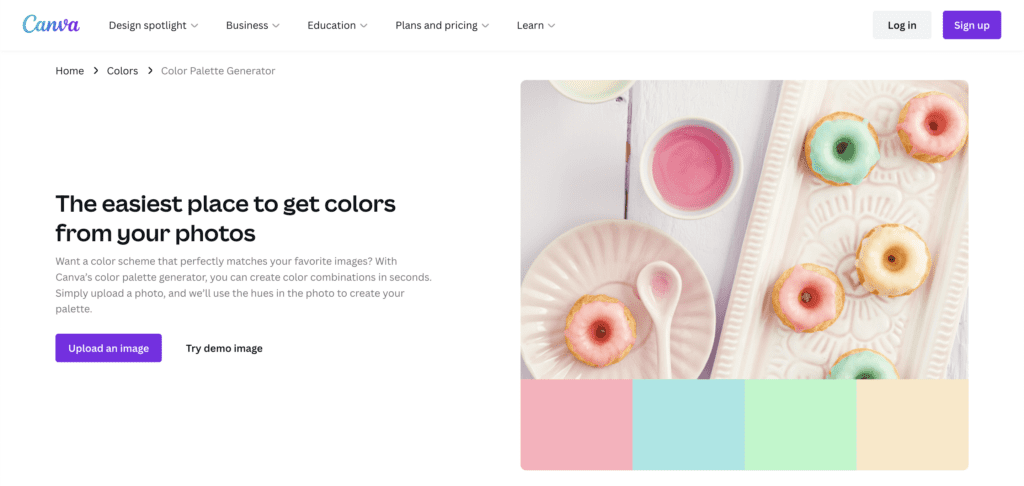 Then click on Upload Image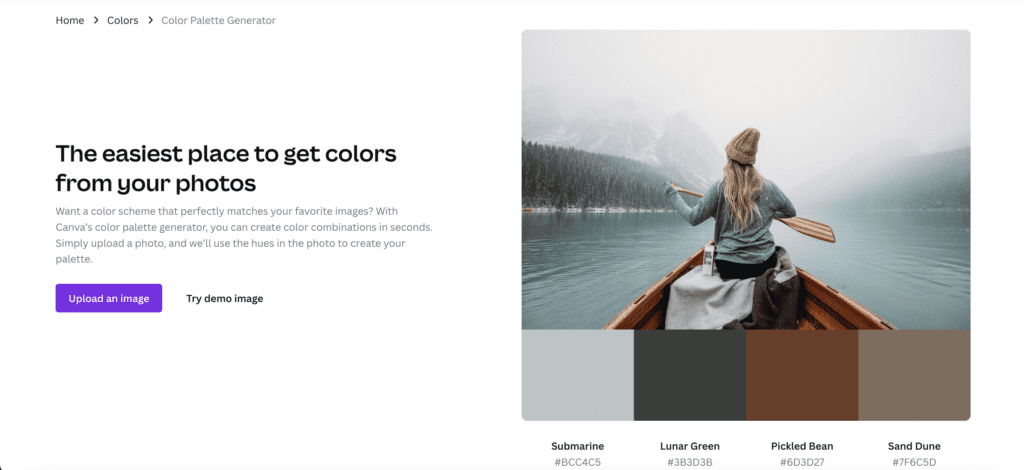 And now it will automatically generate a color palette from your photo
Canva also offers other free tools to explore different color combinations and color wheels to better understand color theory and therefore create better color palettes for your projects.
5) Get Inspiration from Color Hunt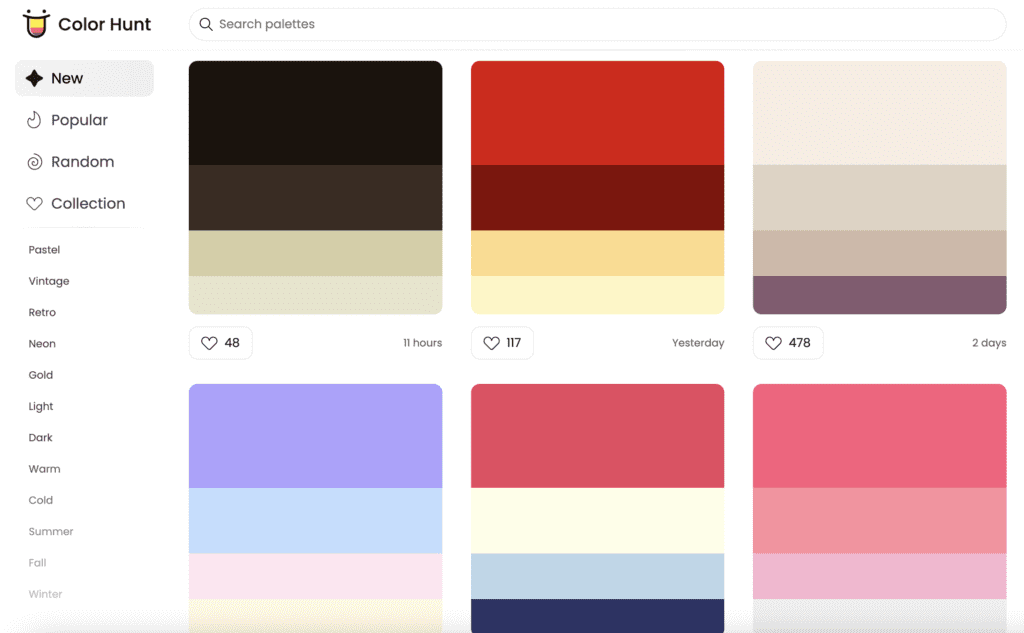 This fifth method is more for inspiration rather than to create a custom color palette from your image.
Color Hunt offers you a huge library of palettes to use in your work or to take inspiration from.
If, for example, you are looking for some light color palettes, you can select on the left side menu the "light" filter and it will show you only color palettes with light colors.
If you need to download it, you can just click on the one you like and in the new window, the download button will appear under the image.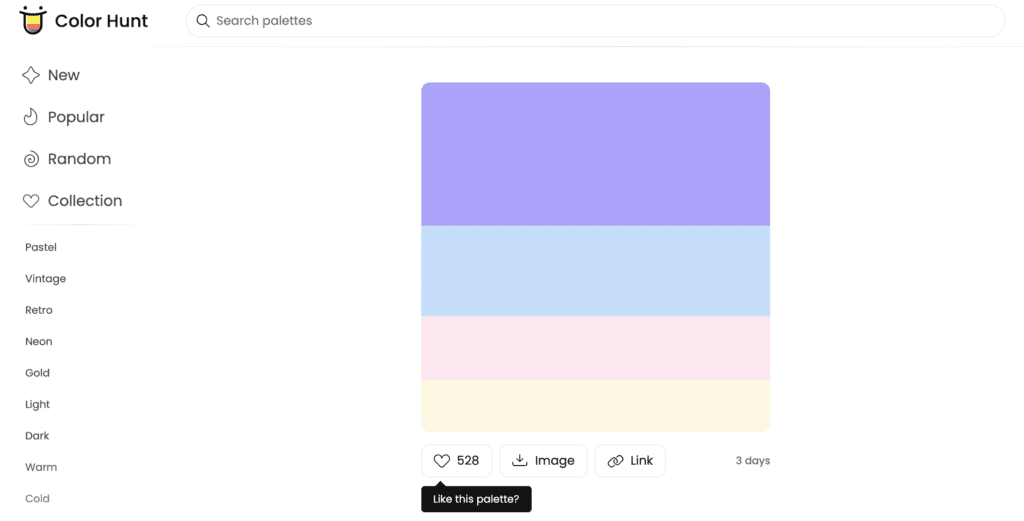 Conclusion
In conclusion, color palettes for photographers, or anyone in the creative industry, are an essential tool to help create stunning visuals. They can be used to convey different emotions and evoke certain moods in order to make a powerful statement.
By understanding the basics of color theory, anyone can create more impactful images through the use of monochromatic, analogous, and complementary color schemes. With practice and experimentation, you can become masters of your craft and use color palettes to your advantage.
Frequently Asked Questions
What makes a good color palette?
A good color palette is balanced, harmonious, and fits the intended mood or purpose. It typically includes a mix of complementary and analogous colors that provide contrast and cohesion.
How to generate a color palette from a photo
Various online tools and software can analyze a photo and extract its dominant colors to create a complementary color palette.
How to generate a color palette from a website
Some tools can extract colors from a website's design elements, such as headers, text, and images, to generate a harmonious color palette.
Generate a color palette from two colors
Tools can create a palette by generating shades, tints, and complementary colors based on the two provided colors.
How many colors should be in a color palette?
A common guideline is around 5-6 colors for a balanced palette. This includes a mix of primary, secondary, and accent colors.
How many color combinations are there?
The number of color combinations is theoretically infinite due to variations in shades, tints, and opacities. However, the practical usability depends on the number of colors and their relationships in a palette.