Long exposure photography allows you to capture intriguing motion blur effects and ethereal-looking images. While dedicated DSLR cameras have specialized settings to achieve long exposures, the iPhone's default Camera app doesn't offer manual exposure settings.
However, with some third-party apps and accessories, you can take stunning long exposure photos directly on your iPhone.
In this guide, you'll learn what long exposure photography is, why it's useful for creative iPhone photography, and how to achieve long exposure effects on your iPhone using either the native Camera app or third-party apps.
With a few tips and tools, you can easily take artistic long exposure photos on your iPhone that highlight motion and enhance lighting effects.
What is Long Exposure Photography?
Long exposure photography refers to using a slow shutter speed to take photos with extended exposure times. This allows the camera sensor to gather light over a longer period, from a fraction of a second up to several minutes.
With long exposures, any motion occurring in front of the camera gets blurred and smoothed out during the exposure. This creates an ethereal or dream-like effect showing the passage of time and movement. Long exposures are especially effective for emphasizing the motion of clouds, water, traffic, crowds, or stars.
The longer the exposure time, the more blurred the motion will become. Photographers commonly use exposures of several seconds or longer to achieve maximum motion blur effects in long exposure photos.
Why Take Long Exposure Photos on Your iPhone?
The iPhone's default Camera app doesn't have manual exposure settings to allow you to directly control shutter speed.
However, the limitations of the iPhone can inspire creativity. Taking long exposure photos on your iPhone requires some clever workarounds, but creates opportunities for amazing shots.
With some patience and the right apps and gear, you can produce impressive long exposure photos using just your iPhone's camera.
Use Your iPhone's Native Camera App
While the native Camera app doesn't directly offer manual exposure settings, you can simulate long exposures through clever use of Live Photos.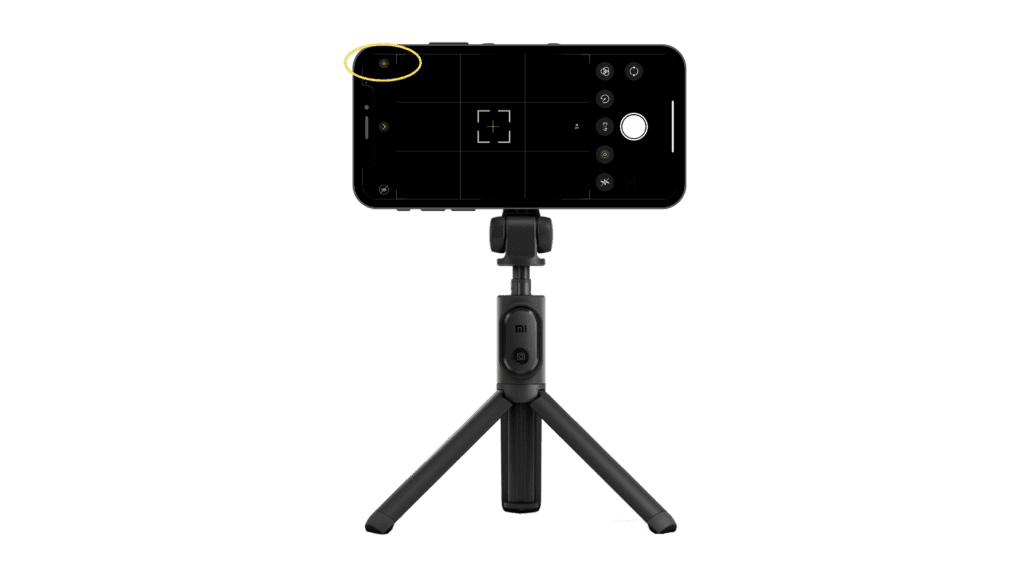 Here's how to take pseudo-long exposures on your iPhone using just the default Camera:
Open the Camera app and click the circle in the top right-hand corner until live photo is active.
Frame your shot and press the shutter button to capture a Live Photo.
Go to your camera roll and select the Live Photo you just took.
In the top left-hand corner, there is an icon that says "live". Clicon on it.
These are all the effects you can apply to your live photo
Select "Long Exposure"
Now you have a long exposure photo!
This uses the short Live Photo video to create a simulated long exposure image. You're limited by the maximum Live Photo length, but it's a handy trick to start exploring long exposures on the iPhone.
Use Third-Party Camera Apps
To take true long exposure photos on your iPhone with full manual shutter speed control, you'll need to use third-party camera apps. These apps provide more advanced controls not available in the default Camera.
Here are some of the best third-party iPhone camera apps for long exposure photography:
Slow Shutter Cam is a popular app specifically designed for long exposure photography on iPhone and iPad. It provides full manual control over shutter speed, ISO, white balance, focus and more.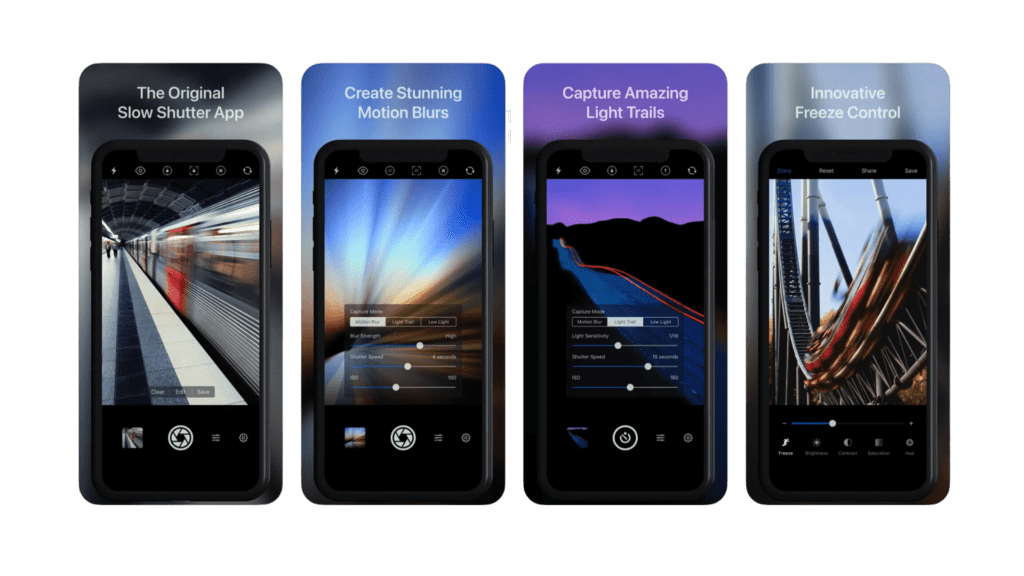 You can capture exposures from one-thirtieth of a second up to bulb mode. Slow Shutter Cam also includes useful features like a universal tripod mount for aligning your phone, light trail mode, and real-time previews of your exposures.

If you want to learn exactly how to use this app, make sure to check out the complete tutorial on iPhonePhotographySchool.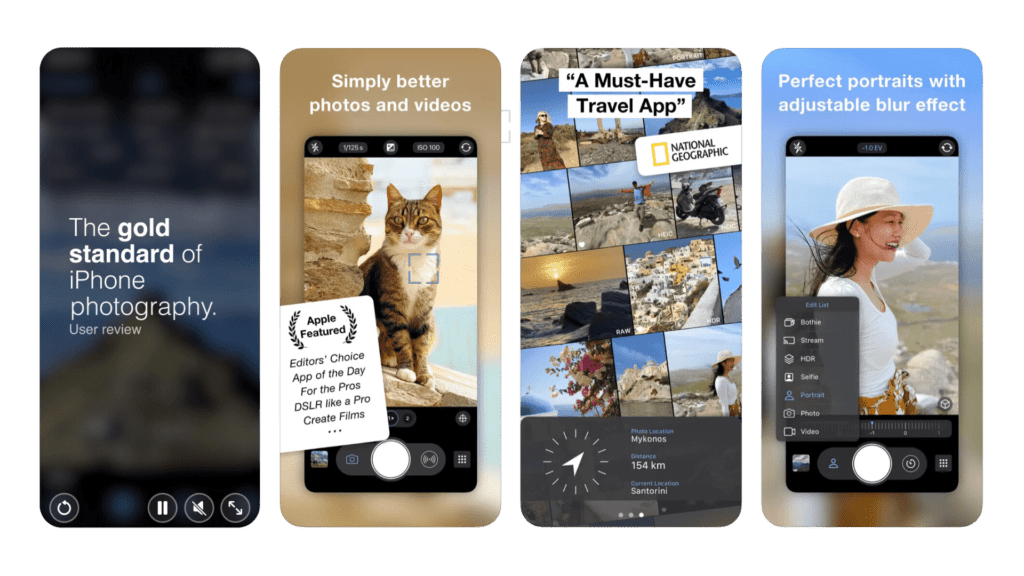 ProCamera is an advanced camera app with a unique Long Exposure Live mode. This shows you a real-time preview of the long exposure effect as the image develops. You can adjust shutter speed up to 30 seconds and capture light trails, moving crowds, traffic, and waterfalls.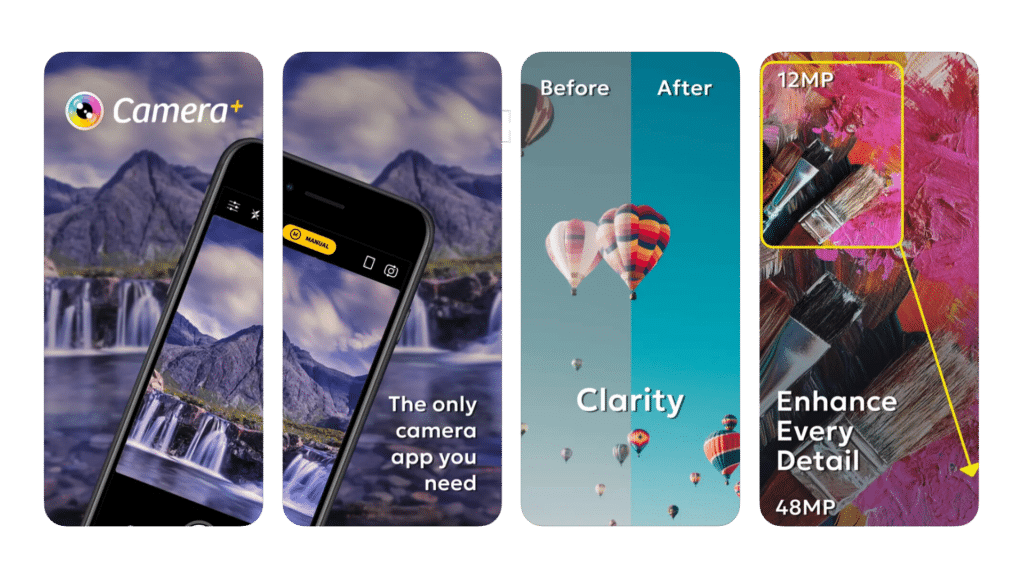 Camera+ offers full manual controls with shutter speeds from 1/24th of a second to 15 seconds. An innovative Slow Shutter mode lets you shoot motion-blurred exposures handheld without a tripod. Camera+ is ideal for iPhones without stabilized lenses.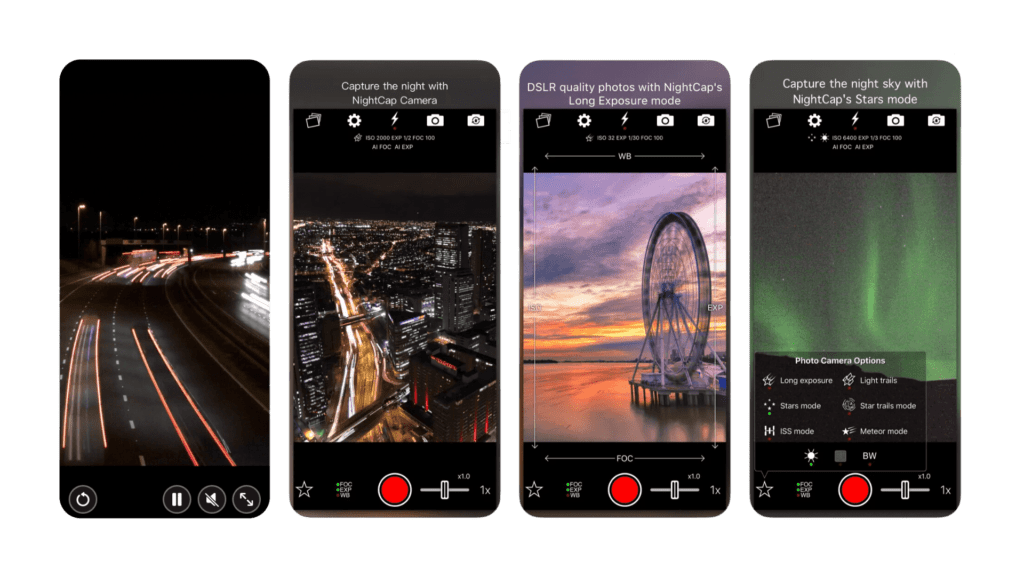 As the name suggests, NightCap Camera is great for low light and night photography on iPhone. It's specifically designed to enhance low light pictures and reduce noise.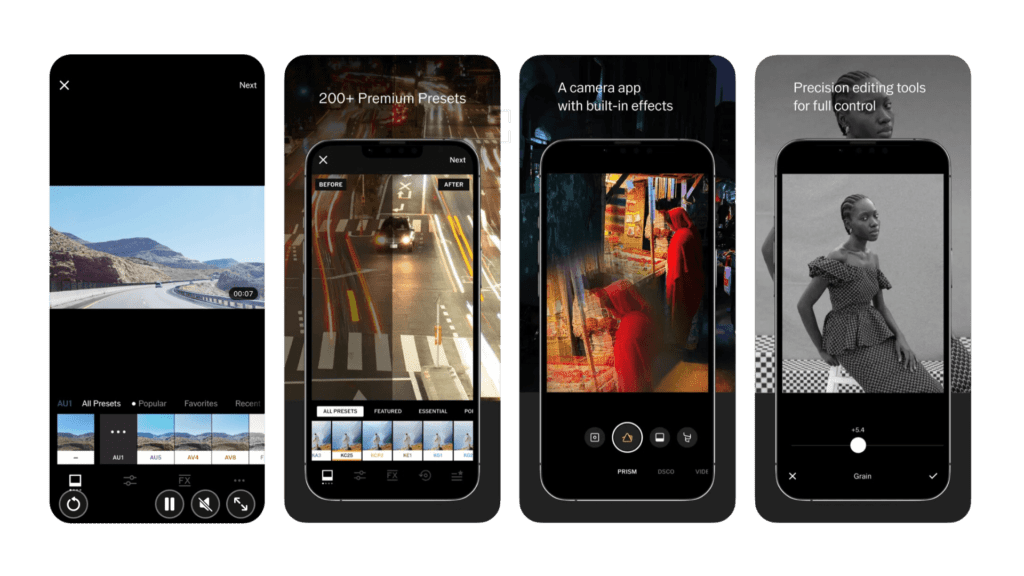 While mainly used for its filters and film-like presets, VSCO Cam has a hidden long exposure mode. Just tap the menu icon at the top, swipe over to "Mode" and select "Long Exposure". It supports exposures from 1/80th sec to 30 seconds.
Take Truly Stunning Long Exposure Photos by Using a Tripod
The key to capturing tack-sharp, stunning long exposure photos on your iPhone is mounting it on a tripod or other stable surface. Trying to handhold your iPhone for exposures longer than 1/15 second will result in blurry, shaky photos.
A tripod locks your iPhone in position and eliminates all camera movement. This allows you to take crisp, crystal clear long exposures showing amazing motion blur effects.
Any standard tripod will work, but gets tricky to position your iPhone. Specialized tripod mounts are designed specifically for iPhones and hold your phone securely in place.
Try using these iPhone tripod mounts for easy long exposure shooting:
SmallRig 71″ Camera Tripod
This is a professional tripod for your phone and it is a great option if you are serious about stepping up your iPhone Photography.
Newest 62″ Phone Tripod
This tripod gives you more flexibility when it comes to the types of mounts you can use for your phone. It is less sturdy and professional than the SmallRig but it is still a great option to take long exposure photos.
Sensyne 62″ Phone Tripod
The Sensyne Tripod is an entry level stand for your phone. I would get this one if you are planning on taking photos with your phone not on a daily or weekly basis. It gets the job done but it is not as sturdy and flexible as the two models above.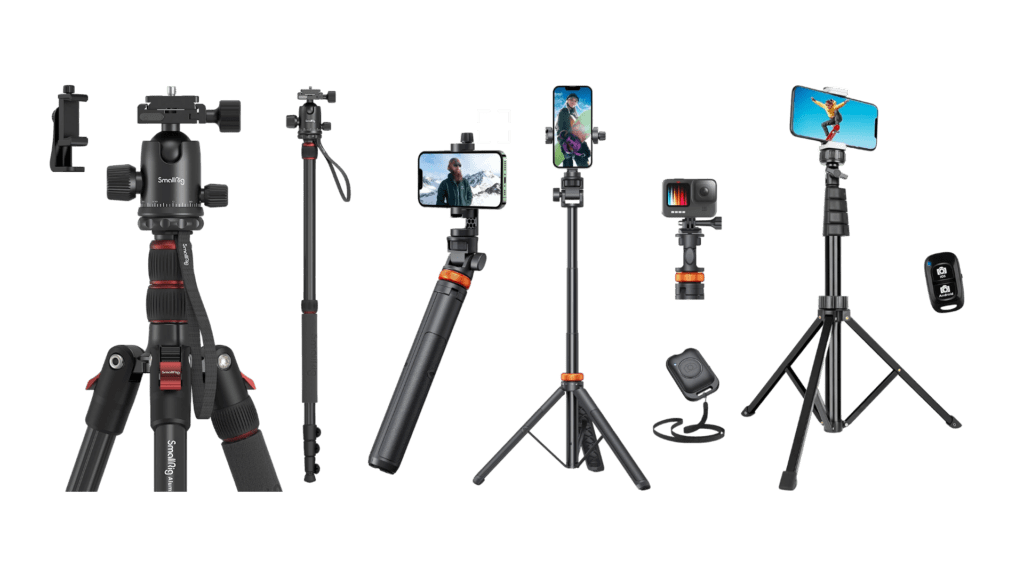 Using a tripod with one of these mounts allows you to take sharp long exposures on your iPhone. Play with exposures from 1/2 to 30 seconds to achieve mesmerizing motion effects.
7 Tips for Taking Better Long Exposures on Your iPhone
To master the art of long exposure iPhone photography, keep these handy shooting tips in mind:
Use Live Photo Mode – As mentioned above, Live Photos are a quick way to simulate long exposures using just the native Camera app.
Get a Tripod – A tripod is absolutely essential for crisp, clear long exposure shots. Don't attempt handheld exposures longer than 1/15 sec.
Shoot Waterfalls – Long exposures are perfect for silky smooth waterfall photos. Use an exposure of 1-6 seconds.
Photograph Rivers – Flowing water looks gorgeous blurred. Try exposures from 2-10 seconds.
Capture Light Trails – Use exposures of 5-30 seconds to create mesmerizing light trails from traffic at night.
Shoot the Stars – Use 30 second exposures to capture the motion of stars in the night sky. Make sure to be in a place without light pollution!
Take Night Cityscapes – Longer exposures allow you to shoot low light city skylines by bringing out more light and detail.
Get creative and don't be afraid to experiment with slow shutter speeds. The iPhone is capable of so much more than you might think!
Achieve Maximum Motion Blur with Exposures Over 30 Seconds
While most third-party camera apps max out at 30 second exposures, you can capture even longer exposures and greater motion blur using apps like Slow Shutter Cam and NightCap Camera.
These apps offer a "Bulb Mode" that keeps the iPhone's shutter open as long as you tap and hold on the capture button. This allows exposures over 30 seconds, up to several minutes.
Use these extra long exposures to:
Capture ultra smooth, misty waterfalls
Create light trails with ethereal streaks from passing cars
Photograph clouds swirling overhead during a long exposure
Show stars trailing across the sky over minutes instead of seconds
Just be sure your iPhone is very securely tripod mounted when using Bulb Mode for multi-minute exposures. Any vibration or camera movement at all will ruin the shot.
When shooting long exposure photographs on your phone in bulb mode, make sure to use a remote shutter release otherwise keeping your hand on the phone will create unwanted vibrations that are going to affect the photogrph.
How to Focus Your iPhone's Camera For Sharp Long Exposures
With such long shutter speeds, maintaining focus is an important part of long exposure iPhone photography. If the focus isn't precisely set, long exposures can easily look soft and blurry.
Here are some tips for keeping your iPhone camera properly focused:
Turn on Focus Lock in your camera app before shooting. This ensures focus stays locked even if you reframe. You can do this by pressing and holding where you want the focus to stay.
Use a tripod and wait until after tapping to focus on your subject before mounting the iPhone. This locks in focus.
With Bulb Mode, pre-focus before starting the long exposure.
Avoid breathing or touching the tripod during long exposures as this can shift focus.
For night or low light shoots, use a flashlight or phone light to illuminate your subject while setting focus before the exposure.
If your shots are slightly soft, try stopping down the aperture in your camera app. This increases the depth of field.
Getting tack sharp focus takes experimenting. Use Focus Lock, pre-focus before shooting, and stop down the aperture.
Edit Your Long Exposure Photos to Perfection with These Apps
One of the great things about iPhone photography is the ability to edit and enhance your shots using powerful editing apps.
For stunning long exposure photos, try using these apps:
Adobe Lightroom – Import your long exposure shots into Lightroom on your iPhone to fine tune white balance, contrast, highlights and shadows. Lightroom's selective editing tools let you make adjustments to specific parts of the photo.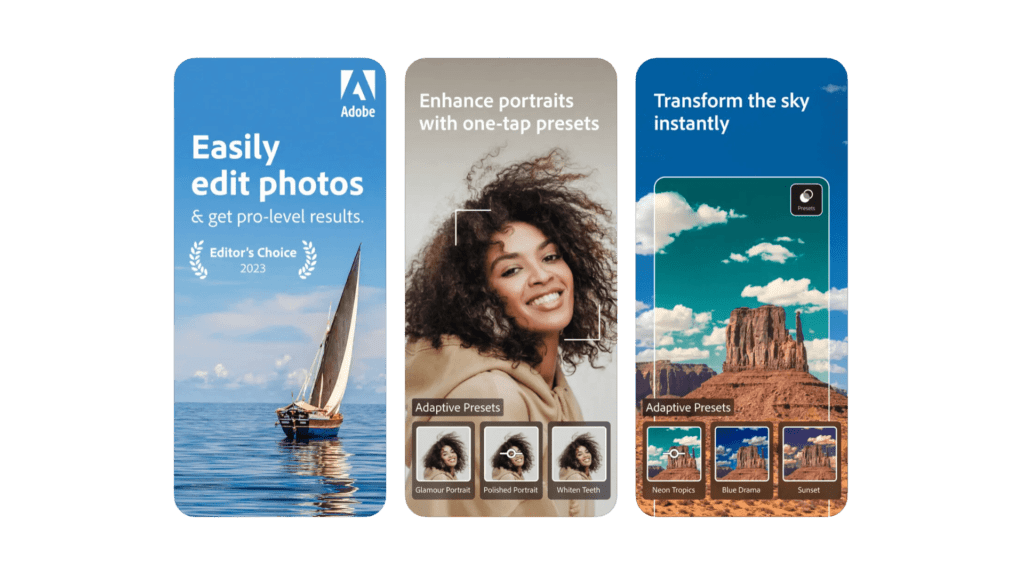 Snapseed – Use Snapseed's Tune Image feature to bring out more detail in shadows and highlights. You can also selectively darken blown-out skies or brighten underexposed areas of your long exposures.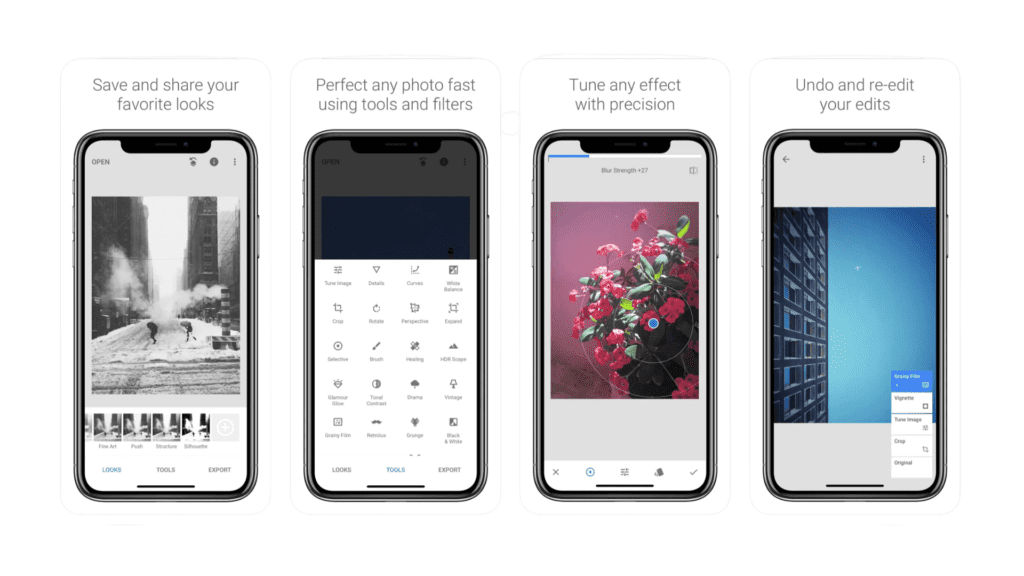 Darkroom – This full-featured editor has filters specifically designed for enhancing landscape, cityscape and sky photos. Try them on your iPhone long exposures.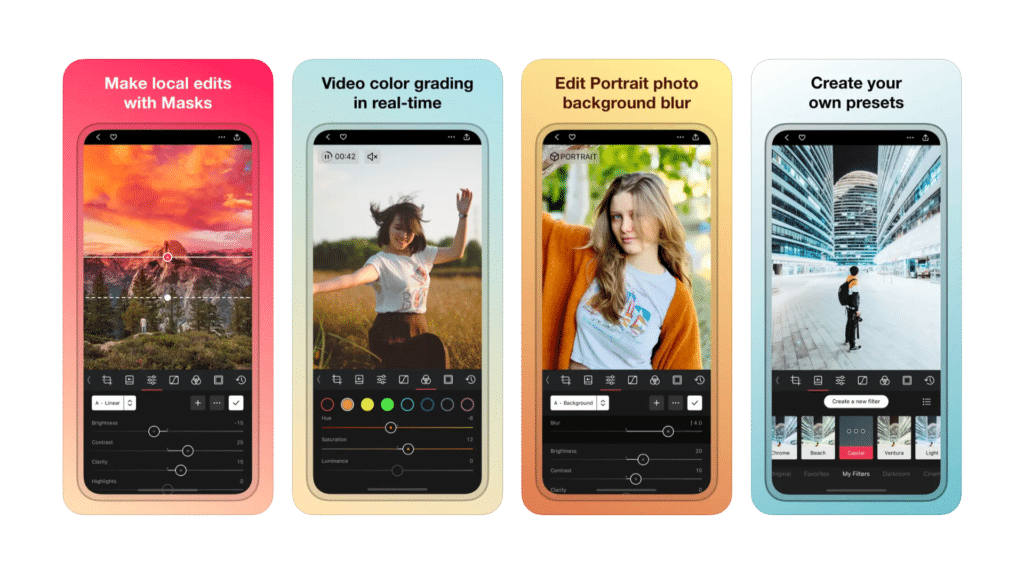 Afterlight – Selectively brighten parts of your long exposures by "painting" with adjustment tools. Includes blur features to enhance motion effects.
These are some of the best apps you can use to edit your photos and make them pop up even more!
Share and Back Up Your Best iPhone Long Exposures
Once you've edited your stunning long exposure shots, don't keep them just on your iPhone's camera roll.
Make sure these keepers are backed up and shared online:
Back up your photos – Use iCloud Photo Library or sync your iPhone to iTunes regularly to back up finished photos. Consider also saving your best work to an external hard drive.
Post on Instagram – Share your dramatic iPhone long exposures on Instagram. But be sure to export a high resolution version from your camera roll first.
Share on Flickr – Join Flickr to share your photos and participate in the iPhoneography community. Long exposure shots look gorgeous displayed large on Flickr.
Create an online portfolio – Build a photography portfolio website with services like Squarespace, Wix or WordPress. This lets you showcase your long exposure work professionally online.
Print your work – Apps like Shutterfly, Snapfish and FreePrints make it easy to print your iPhone photos as framed large prints, keepsake books or custom cards.
Sell your photos – Consider licensing your long exposure images via stock agencies like Shutterstock and iStock for passive income.
With the right apps and techniques, the only limit to take amazing long exposure photos with your iPhone is your creativity. Use these tips and apps to step up your iPhone photography and comment below if you have any questions!
Other iPhone Photography Tips and Techniques
If you are interested in learning more about iPhone Photography and how to get the best out of the iPhone camera, download our Free iPhone Photography Guide!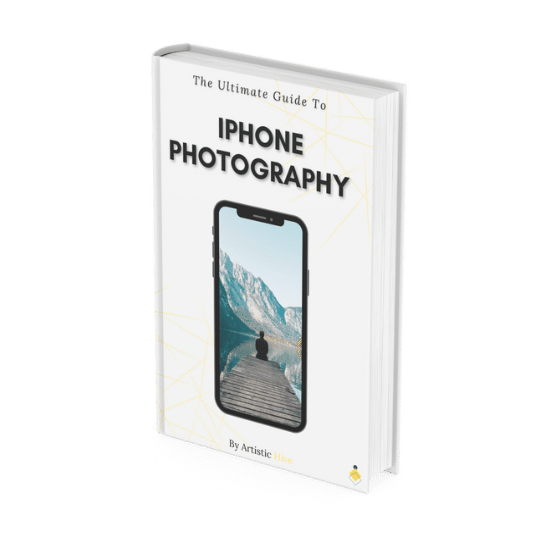 FAQs: Long Exposure Photography
What is a long exposure photo?
A long exposure photo is one that uses a slow shutter speed to extend the time the camera's sensor is exposed to light. This allows the camera to capture motion and blur over time.
How do I take long exposures on my iPhone?
You can take pseudo-long exposures using the native Camera app's Live Photos feature. For true long exposures, use manual camera apps like Slow Shutter Cam, ProCamera, or NightCap. These allow you to set shutter speed.
Can the default iPhone Camera app take long exposures?
Not precisely, but you can approximate long exposures using the Live Photo mode. Third-party apps offer full manual control.